4 Steps To Become An Infusion Nurse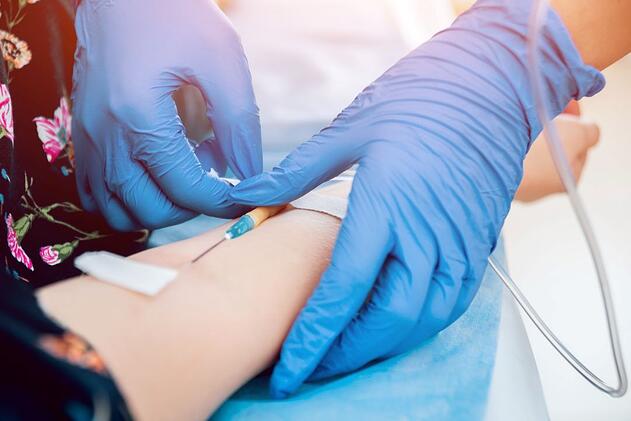 Infusion nurses are Registered Nurses that specialize in the administration of intravenous medication or therapies and the insertion of intravenous devices.
We interviewed Michelle Berreth, an educator for the Infusion Nurses Society (INS) in Norwood, Mass to learn more about this nursing profession. She identifies infusion nurses as essential to the practice of nursing.
In this guide, we'll explore what an infusion nurse is, what they do, and what you should know about the career if you're considering exploring it.
What is an Infusion Nurse?
"An infusion nurse is a resource, advocate, mentor, and collaborator," Berreth says.
Infusion nurses ensure that patients receiving intravenous (IV) therapy receive care that is appropriate for the therapy ordered, from choosing an appropriate infusion device to the management of that device as well as monitoring and evaluating the patient's response to the IV therapy.
According to Berreth, infusion therapy can involve anything from a football player playing too hard in the hot summer and needing IV fluids, or someone with a bowel problem who cannot digest food so requires nutrition through an IV.
What do Infusion Nurses Do?
Infusion Nurses have a very interesting job because their responsibilities are extremely diverse and different from typical bedside nurses.
Job responsibilities include:
Performing blood transfusions, chemotherapy infusions, antibiotic infusions, steroid infusions, electrolyte infusions, and vitamin infusions
Administering medications and fluid therapy, monitor patients IV and medications and develop care plans
Inserting and maintaining Peripherally Inserted Central Catheters (PICC)
Teaching intravenous access and PICC insertion
Inserting intravenous access
Dressing changes on PICCs, midlines, and central lines
Monitoring a patient's response to treatment
Assessing line sites and patency
Keeping infection control and prevention as a priority
Reviewing pertinent lab values and drug information
Collaborating with other healthcare professions
Educating patients, families, and caregivers
Performing patient care in a timely and efficient manner
Performing patient assessments
Coordinating the discontinuation of IV services with patients
How to Become an Infusion Nurse
To become an Infusion Nurse, you'll need to complete the following steps:
Step 1: Attend Nursing School
You'll need to earn either an ADN or a BSN from an accredited nursing program in order to take the first steps to become a registered nurse. ADN-prepared nurses may want to take the additional step of completing their BSN degree
Step 2: Pass the NCLEX-RN
Become a Registered Nurse by passing the NCLEX examination.